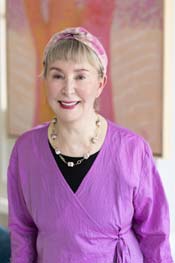 As a young child I listened to my mother talk admiringly about a great aunt designing hats for Wanamaker's Department Store in Philadelphia, PA in the early 1900's. I surmised that the ability to create was a good thing, and since someone in the family had it, maybe I did too. So I began drawing on the blank pages in the front and back of all the books in our house. This desire to create continues to this very moment.

I enrolled in academic art courses, visited museums, and attended workshops, and for the last twelve years painted under the supervision of the gifted artist/teacher, Christaphora Robeers. Our focus has been understanding and applying the principles and elements of design, while finding one's own voice in the process.

My thought process and artistic methods are particularly influenced by the organic and lyrical qualities in some of the paintings by Hans Hofmann, Helen Frankenthaler, Cy Twombly, and Joan Mitchell.

I especially identify with the contemporary British artist and printmaker, Howard Hodgkin, who said "I would like to paint pictures where people didn't care what anything was because they were so enveloped by them".

If I had to categorize my paintings, I would say they are somewhat organic, somewhat narrative, somewhat abstract, and always intending to be enjoyed.
CV
Exhibitions/Awards
Bowery Gallery NYC 2017 National Competition and Exhibit
Juror, Kyle Staver

Artspace Gallery, Richmond VA Radius 250/17 Juried Exhibition
Juror, Francis Thompson

Biggs Museum of American Art, Dover DE 2017 Biggs Picture Competition
Juror, Jason Rosenfeld

Fredericksburg VA Center for the Creative Arts,
2017 "Textures & Patterns" National Juried Exhibit
Honorable Mention Recognition
Juror, David R. White

Virginia Artists 2016 Juried Exhibition, Charles H. Taylor Arts Center, Hampton VA

Crossroads Art Center, Juried Exhibition, May 2016

Montpelier Center for Arts and Education, Third Annual South Atlantic Juried Exhibition, Edith B. Haller Award, April 2016
Juror, Jennifer Glave

Gallery Flux, Ashland VA , 2014 and 2015
Juried Call for Artists Exhibition

Gallery Flux, Ashland VA, 2014
Juried Call for Artists Exhibition
"Big Sky"

Montpelier Center for Arts and Education 16th Annual Celebration of the Arts National Juried Exhibition, 2013
Juror: Geraldine Kiefer

Red Door Gallery, Richmond VA, April 2013
Featured Artist for Exhibition Honoring Virginia Garden Week

Crossroads Art Center, Richmond VA. Juried Call for Artists Exhibition, 2009
2nd Place
Jurors: Jennifer Glave and B. J. Kocen

Art Works, Richmond VA. 2004
By Invitation Solo Exhibit
Representation
Expression: Self and Art, Richmond VA, 2015 to present
Red Door Gallery, Richmond VA, 2011 - 2013
Palette Paint, Richmond VA, 2010 - present
Crossroads Arts Center, Richmond VA, 2004 – present
Wizzie Broach Interiors, Norfolk, VA, 2013 - present
Art Education
Selected academic courses in art history, drawing, color theory, composition and design. (1970's and 1980's in NJ)

Extensive travel in Italy, France, Spain, and England with an emphasis on the major art museums and galleries to see and study the works of the masters. Frequent visits to New York City museums and galleries for special exhibits and for access to hard to find publications for continued study of the principles and elements of art as represented in the works of major artists.

Informal instruction at Virginia Museum of Art, Museum School and the Visual Arts Center, Richmond VA. Artist workshops, for example, with Stuart Shils, nationally and internationally exhibiting landscape artist and weekly visiting critic at the Pennsylvania Academy of the Fine Arts and Thomas Bosket, Assistant Professor of Graphic Design at Parsons the New School for Design. And for the last several years, regular group painting with Christaphora Robeers, a nationally and internationally exhibiting artist teaching in Richmond VA. (1990's to present)
Education
| | |
| --- | --- |
| Rutgers University School of Law, Camden NJ | JD, 1988 |
| Colorado State University, Denver CO | MUA, 1982 |
| North Carolina State University, Raleigh NC | BA, Psych, 1972 |